Principal & Head of Mathematics and Physics
Kandiah Kandeepan
MSc Imperial College London, PGCE, BSc (Hons)
Mr Kandeepan started his teaching career in the early 1990s with his top Advanced level results. His natural teaching abilities and systematic and structured approach has been praised by many students and parents.
After finishing his degree he started teaching at colleges in London and his passion for teaching motivated him to complete a PGCE. Furthermore, due to his career ambition and urge to become a top level teacher, he went on to study an MSc at Imperial College London.
He now has more than 25 years of teaching experience. Countless students have passed with top grades under his excellent and dedicated teaching. He is fully committed to enhancing the skills and knowledge of young students. Over the past 15 years many students have had to book in advance and wait for 2-3 months in order to get a place in his elite teaching group. Kandiah is a thinker with great vision and also a person who can add value to the child's academic life. His teaching has elevated many students' mathematical and analytical skills and these students have moved on to top universities to read econometrics, engineering, computer science and mathematics. Many of his students have then gone on to work in an array of elite environments such as: Rolls-Royce, UBS Bank, City Bank, Goldman Sachs, Bank of America, Glaxo SmithKline (GSK), in the NHS, for the Bar Council and many other leading public and private sectors.
Head of Management & Exams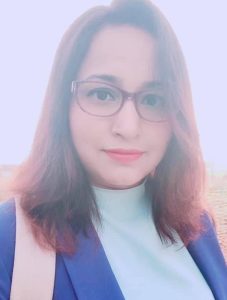 Ms Ritu Tripathy
PGCE, MBA in Finance & PG in Public Relations
After working for more than a decade in multi-nationals in India, Ritu was absorbed by HIC in 2016 as one of the key senior management personnel. She paved a smooth path and set a robust foundation to the college by devising  meaningful and progressive business  strategies, policies and procedures. She contributed in establishing a growth oriented road-map for the development of the college and supported in meeting year on year aspirations through her valuable advise and decision making. Under her leadership, the college evidenced crossing milestones, staying ahead in meeting the ethos, values and standards in meeting individual needs of everyone part of the college.
Business Support Manager & Exams Officer
Ms Anishga Selvaranjan
MSc Business Analytics, BA (Hons) Management and Leadership
Anishga started her career as a Business Risk Associate at Ernst & Young where she gained significant experience in risk analysis and auditing across different clients. She has delivered and led multiple projects across different industries conducting internal audits covering process design weaknesses and potential risks during her time at Ernst & Young. Anishga joined Harrow Independent College in 2021 after completing her Master's in Business Analytics. She is a highly skilled, self-motivated all-rounder young professional and a very enthusiastic person who takes pride in supporting her peers and set a great example of being so committed, hard-working, flexible and resilient every time.
As the current Business Support Manager and Exams Officer of HIC, Anishga looks into the overall management of the business activities of the college in financial and strategic planning, supporting the budget, auditing process, training, and coordination of projects. She further looks into analysing college performance, carrying out training for staff improvement, and bringing recommendations for business improvement. Anishga has been a great value addition to our college contributing not only towards the growth of the college but also being a very friendly staff encouraging our academic team and students.