BTEC Higher National Programmes in Data Analytics and Intelligent Systems
Data Analytics (DA) is one of the blooming disciplines and it is taking over a lead role in all the businesses, commerce, and other relevant sectors to transform them into data-driven decision makers which help them in increasing their productivity. As per the statistics, there is a shortage of skilled data analysts in the industry as of now.
On the other hand, Artificial Intelligence (AI) has become a part of our life now; from mobile phones to self-driving cars, anything with technology will not function without AI. There is a high demand for AI and many job opportunities are available for AI engineers in all types of sectors and industries.
HIC is bringing DA and AI specialised Higher Education to your doorsteps. HIC provides 2 Higher National Certificate(HNC) to Higher National Diploma(HND) programmes for aspiring candidates to become  Data Analytics and Artificial Intelligence experts.
HND in Data Analytics programme: It is for those candidates who would like to develop their carrier in Data Analytics.
HND in Intelligent Systems programme : It is ideal for those candidates who wish to build a career in the Artificial Intelligence sector.
HIC provides excellence in education and hands-on training in affordable value for money. Career prospects can include AI Engineers and Machine Learning Engineers. Alternatively, there are opportunities for AI-based Game Developers.
The HNC/HND qualifications at HIC offers a choice of a general Computing strand at level 4 and two specialist pathways at level 5, with a range of general and specialist units, core and optional:
Data Analytics (Path 1)
Intelligent Systems (Path 2)
Each unit has a clear purpose: to cater for the increasing need for high quality professional and technical education pathways at levels 4 and 5, providing students with a clear line of sight to employment or progression to a degree at level 6. Each pathway consists of a total of 120 credits at level 5, delivered via core, specialist and optional units.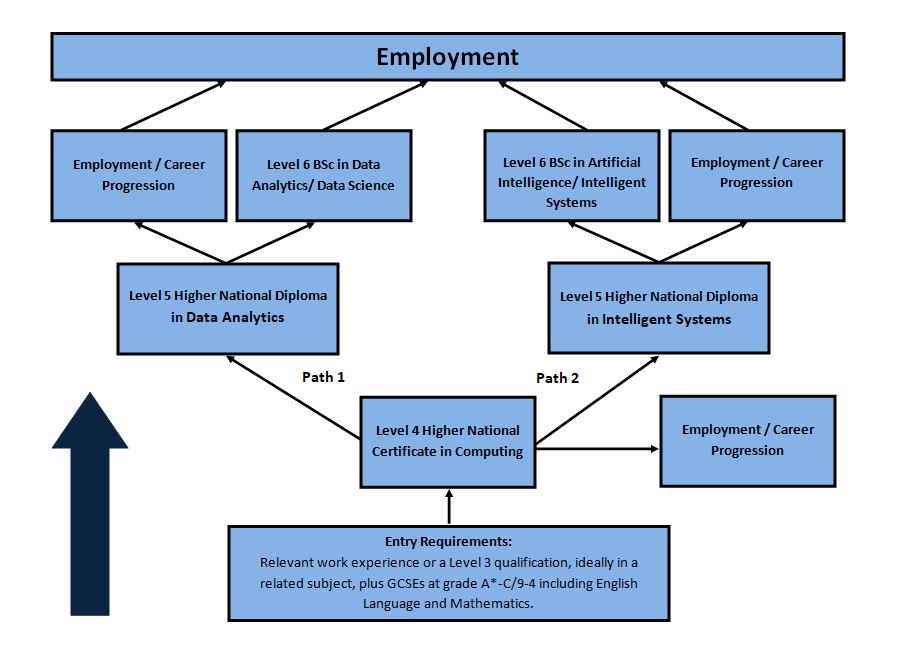 Path 1 – HNC to HND in Data Analytics (Total 15 Units)
HNC Computing

(8 Units)

HND Data Analytics

(7 Units and a Research Project)

Core Unit
Programming
Core Unit
Computing Research Project
Core Unit
Networking
Core Unit
Business Intelligence
Core Unit
Professional Practice
Core Unit
Discrete Maths
Core Unit
Database Design and Development
Core Unit
Data Mining
Core Unit
Security
Core Unit
Applied Data Analytics Models
Core Unit
Managing  a Successful Computing Project
Optional Unit
Emerging Technologies
Optional Unit
Data Analytics
Optional Unit
Data Structure and Algorithm
Optional Unit
Website Design and Development
Path 2 – HNC to HND in Intelligent Systems (Total 15 Units)
HNC Computing

(8 Units)

HND Intelligent Systems

(7 Units and a Research Project)

Core Unit
Programming
Core Unit
Computing Research Project
Core Unit
Networking
Core Unit
Business Intelligence
Core Unit
Professional Practice
Core Unit
Data Structure and Algorithm
Core Unit
Database Design and Development
Core Unit
Machine Learning
Core Unit
Security
Core Unit
Artificial Intelligence
Core Unit
Managing  a Successful Computing Project
Optional Unit
Emerging Technology
Optional Unit
Strategic Information Systems
Optional Unit
Advanced Programming
Optional Unit
Website Design and Development